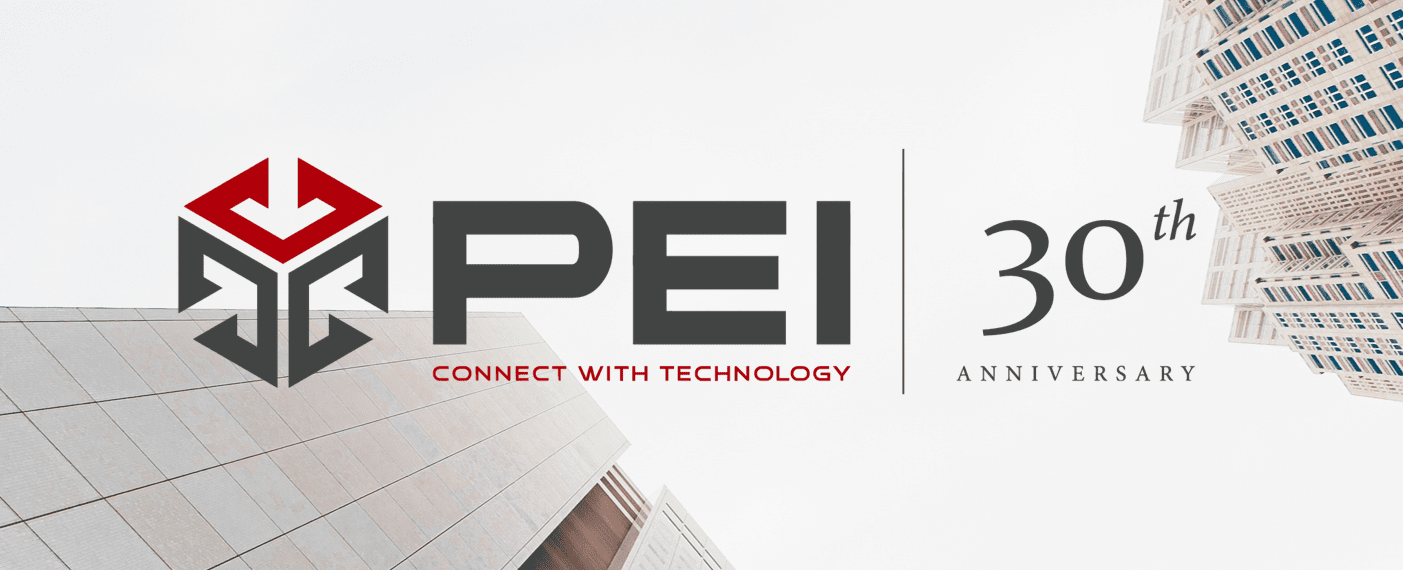 PEI, Boulder IT Consulting Firm, Celebrates 30 Years in Business
BOULDER, CO, March 31, 2018 – Performance Enhancements Incorporated (PEI), a leading IT Services provider in the US, celebrated its 30th Anniversary on Saturday, March 31st.  Over the last 30 years, this family-owned, IT consulting firm has evolved from a two-person startup to a multimillion dollar company serving a diverse client base across the United States.
PEI was first incorporated in 1988 in San Mateo, CA by brothers Tim and Chris Krueger with the goal of providing IT services for the Savings and Loan industry through a focus on enhancing and extending businesses' IT investments. After the subsequent crash of the Savings and Loan industry less than a year later and the 1989 Loma Prieta earthquake, PEI decided to change both focus and locations. By 1992, PEI had made Boulder, CO its permanent home and has since developed specializations in several areas of technology—cloud architecture, virtualization, unified communications, networking, advanced services, and managed services.
As a leading IT Consultancy, PEI has always resided on the forefront of innovation, consistently remaining on the lookout for emerging technologies with broad market appeal and the potential to drive change in terms of productivity and ROI. In 1995, PEI partnered with Novell, Microsoft, and Cisco to become one of the first Value Added Resellers in Colorado and an early adopter of the internet—helping hundreds of customers connect to the internet and build their first data centers and networks.
In 1999, PEI pioneered the emergence of another technology, deploying the first Cisco VoIP solution in Colorado. By mid-2000, PEI's Unified Communications practices became a cornerstone for the organization. Following this trend, PEI continues to grow and refine its range of professional services.
Some of PEI's notable achievements in most recent years include being named a Top 200 Microsoft Solution Provider for both 2016 and 2017, earning five Microsoft Gold Competencies—a feat previously unheard of among partners focusing on the SMB space—winning IT Project of the Year at CISA Apex Awards in 2011, and being named a Top 250 Privately Owned Company in 2014 by ColoradoBiz magazine.
About PEI
Throughout the last 30 years, PEI has delivered over 7,000 successful IT projects across a wide range of industry segments including financial services, healthcare, education, manufacturing, and professional services. PEI specializes in the longevity of client relationships where each customer, both large and small, is vital to its success. PEI considers all clients to be "lifelong customers" whose satisfaction is PEI's mission and guarantee.
Since its move to Colorado, PEI has grown into a multimillion dollar company with clients across the US. By partnering with industry-leading companies such as Microsoft, Cisco, and Polycom, PEI enables their clients to realize the competitive value of technology solutions that drive real business results.  PEI's five Microsoft's Gold Competencies in Communications, Cloud Productivity, Cloud Platform, Datacenter, and Windows and Device have made them one of the top Microsoft partners in the United States.
Want to Learn More About PEI?
Checkout our 30 Years of Tech Timeline to learn about our company's history and some major technology inventions that've happened during our lifetime! (Click to enlarge).