What is a Managed Service Provider (MSP)
Managed services are a form of IT outsourcing where your business works with a third-party agency known as a managed services provider (MSP) to handle some or all of your IT needs. This is often done to cut costs and free up your internal IT team. Managed IT services can take many forms, depending on the needs and composition of the organization.
One common misconception about managed services is that MSPs replace your existing IT department; however, that does not have to be the case. MSPs can support your IT team by taking over everyday maintenance and monitoring tasks. This allows your IT team the time and flexibility to focus on strategic projects that will drive your business forward. Depending on the size and capabilities of your IT department, you can choose a managed services model that is the best fit for your existing IT strategy. Some of the most common models are co-managed, fully outsourced, and advanced skill augmentation.
How Does a Managed
Service Provider Work
IT managed services providers can work in different ways, depending on the level of support your business needs. There are three common models that range from fully outsourced to application management. Let's dive in:
Fully Outsourced Managed IT Services

Fully outsourced managed services are a good fit for companies who do not have an internal IT team and need help managing end users. Under this model, an MSP handles all your IT needs from a user helpdesk to more sophisticated maintenance and monitoring. Some companies with an established IT team may still choose a fully outsourced model so their internal team can stay focused on larger upgrades or IT projects.
Co-Managed IT Services

Under the co-managed model, an MSP works in conjunction with your existing IT team to provide additional management and administration for your IT environment. This can prevent an overtaxed IT team from falling behind on important maintenance tasks or losing focus on more strategic initiatives.
Application Management Services

If you already have a full internal IT department and only need more advanced management and support, this plan is probably the best fit for you. One benefit of working with an MSP is access to more advanced skill sets. Even with an internal IT team, your MSP ensures you are getting highly experienced engineering talent to address specialized systems that are difficult to manage, such as SCCM or cloud architecture.
To recap everything thus far, managed services providers are agencies that deliver outsourced IT organization, management, and maintenance. How involved and hands-on your MSP is within your business depends on the capabilities of your provider and what services you need to best support your operations.
Why Do I Need a Managed
Service Provider
When it comes down to it, a managed IT services provider offers reliability and consistency. An MSP already has the tools to monitor, manage, and protect your technology, so you can save your time, money, and stress for another project.
Alternative managed services solutions include the break/fix model and building IT internally. Building IT internally is costly and often leaves gaps in talent, but we will dive deeper into this later. The break/fix model requires you to wait for something to break and then you call (and wait) for a technician to come fix the problem. This is a slow process that leads to costly downtime.
When it comes to your technology, wouldn't you want to get ahead of problems before they arise? That's where the reliability and predictability of managed services comes into play. A managed services provider gets ahead of problems before they arise so you can make your business your primary focus.
Interested in PEl's Managed Service Provider? Get a Quote Today!
12 Benefits of a Managed Services Provider
Focus on Your Business
Every small IT issue can have a big impact on your company's future, and if you're not focused on your business, you'll never grow. Rather than spending time on routine maintenance tasks or overloading your IT department with challenges outside their skill range, your business's success can be the center of attention. A managed services provider can take care of those distractions, so you can focus on your operations.
Reduce Risks
As businesses shift to remote or hybrid work, there are more access points to protect and more worry surrounding user error. According to a 2020 study by Keeper focusing on cybersecurity and remote work, 55% of respondents have seen an increase in credential theft, and 62% experienced an increase in phishing and social engineering attacks since the start of COVID-19. The average cost of one attack: $266,725.
Any business, big or small, can be a compelling target for hackers. It's important to remain proactive instead of waiting for a hacker to target your business. Your managed services provider can recognize vulnerabilities in your current system and improve your defenses to protect your customers.
Access to Experts
When you work with a managed IT services provider, you gain access to a wide range of talent you may not be able to afford to hire internally. MSPs have large teams of engineers whose skill sets span many different technologies to cover your IT needs. If your provider cannot troubleshoot problems directly, they can escalate issues to vendors and get you the support you need.
If you are willing to give up some control of your IT environment and are comfortable working with a remote support team, you can access a much wider reach of talent often at a much lower cost than building it internally.
Reduce Downtime
ITIC's 2020 Global Server OS and Hardware Reliability Survey found that one minute of downtime for a single server cost the majority of surveyed businesses $4,998. This adds up to $300,000 lost for one hour of downtime. That's a hefty expense for any business to incur.
Hiring a managed services provider can boost your team's productivity by removing the trial-and-error troubleshooting steps. Rather than troubleshooting IT issues on your own, you can rely on your MSP to get your business back up and running before you know there is a problem. Using remote monitoring and management services, an MSP can identify and respond immediately when there is an issue—before you pick up the phone to report the outage. Their fast response times will ensure your business stays running while mitigating that costly downtime.
Remain Compliant
More than avoiding the occasional fine, remaining compliant can help you safeguard your business and customers. When their IT provider is up-to-date with regulations, businesses are less likely to get fined by government officials for noncompliance.
For example, if your company needs to be HIPAA or FERPA compliant, you must ensure your MSP is also compliant to avoid fines. When your provider is compliant with requirements that you need to meet, it can take a load of stress off your back.
Think about it – a single violation could cost tens of thousands of dollars in fines!
Keeping Up with Trends
New IT trends, technologies, and software pop up throughout the year. It is a difficult undertaking to stay on top of a changing IT landscape. At the same time, if your business falls too far behind with these changes, things may go downhill for you.
When you fall behind, your customers could take notice and might turn to a competitor's business. But it does not have to be like this!
Managed IT services providers like PEI are here to help businesses stay up-to-date on developments in technology, and more importantly, to plan for these changes. You don't need to constantly make major updates. You and your MSP can work together to decide what changes and trends should be adopted when.
Control Costs
We will take a closer look at the cost of managed services a little later, but it is important to consider the savings when talking about MSPs. Rather than paying salaries, providing benefits, and taking paid vacation time into account when hiring internally, you could pay a flat rate to your MSP. There are different plans that come at different prices, so you can align your budget and your IT needs.
Most packages come at a locked-in monthly rate, so you can plan budgets and expenses in advance and only pay extra for services that fall outside of your agreement.
IT Road Mapping
Good managed IT services providers offer IT road mapping or vCIO services to help you align your technology with your business strategy. Through IT consultations, your MSP can better understand your business goals and prioritize IT initiatives.
IT road mapping services help you and your managed services provider work as a team, so your technology supports your business without breaking the bank.
Vendor Relations
Many managed services providers have partnerships with vendors. These vendor relationships mean you will get better insights into products, services, and licenses. Additionally, when problems arise that require the intervention of a manufacturer or vendor, your MSP can be the one to escalate the ticket. This often leads to faster answers!
The best part of your provider's partnerships with vendors is that they can take over contract management. Rather than trying to manage various contracts with different vendors, it all comes through one person.
24/7 Support
Your business may only be open from 9 to 5, but your technology needs to keep working outside of business hours. Not all managed services providers offer 24/7 support, but a good one should provide some form of after-hours support for critical system coverage.
MSP monitoring and alerting systems can ensure your technology is working for your business at all hours of the day, regardless of your business hours.
Scalability of Services
Working with a Managed Services Provider gives your business the flexibility to grow or downsize without the fear of not having enough coverage or paying too much for rigid internal resources. Managed services are scalable to meet the needs of your changing business structure. This includes adding and removing users, tacking on or taking away services from your agreement, and more.
You deserve to be able to grow and change without being confined by technology!
Proactive Coverage
A key benefit of managed IT services is that your MSP is focused on proactivity. Rather than relying on the outdated break/fix method, MSPs get ahead of problems before they arise. This means less downtime for your business.
Make sure your business stays ahead of emerging threats and problems with a proactive IT managed services provider.
Types of Managed
Services Providers
Managed services providers generally take a holistic approach to handling a company's IT needs, but there are some cases where a business calls for a more specialized type of provider. Specialized providers are equipped to tackle highly stringent security protocols or complex cloud management systems. Learn more about some common types below:
Managed Security Services Providers (MSSP): Managed security services providers focus specifically on—you guessed it—security solutions. Managed security services include monitoring networks and IT systems, scanning for gaps in security measures, responding to incidents, and more.
Cloud Service Providers: Cloud service providers work with businesses to implement, manage, and monitor cloud-based solutions. These providers can help organizations at any point in their cloud journey and provide scalability and flexibility with cloud solutions.
Wondering whether you need multiple providers? The answer is likely no. It's generally advisable to work with as few MSPs as possible while still covering all of your needs. If you only need to outsource one specific element of your business's IT, a specialized MSP might be the right choice for you.
If you are looking to outsource many elements across your business, a more general MSP is the way to go to ensure there are no gaps in your services—which tend to appear when you take a multi-solution or siloed approach to technology management. Look for a managed IT services provider that offers advanced security solutions or advanced cloud services (or both). For example, PEI is an IT managed services provider that offers advanced security and cloud management solutions.
Platforms MSPs Work With
Managed Services Providers that offer fully outsourced plans with help desk services will need to have experience with your collaboration and productivity platform—like Microsoft 365 or Google Workspace—in order to provide assistance to your users. Microsoft and Google are two of the leading cloud productivity platforms, and its likely you won't have a problem finding a provider to support these platforms. At this time last year, Microsoft controlled 48.08% of the market share for office suite technologies and Google just slightly behind with 46.44% of the global market according to Statista, and their hold hasn't loosened. Both platforms are continuously improving and expanding their offerings as businesses rely on resources to support remote and hybrid work. But, no matter which cloud productivity platform your business uses, managed services providers should be prepared to work with your existing resources.
If you're looking for a provider to support and manage your cloud environment, you'll likely need to perform a more thorough search to find the best provider for you. Many cloud service providers specialize in one or just a few cloud platforms or favor certain ones over others. For example, PEI holds many advanced cloud computing certifications with Microsoft, and our chosen cloud platform is Azure.

Microsoft & Office 365
PEI is a Microsoft Partner with the Modern Work designation, highlighting our excellence in implementing Microsoft 365 solutions to make hybrid and remote work more accessible and secure. This includes working with Teams, Office 365 applications, Windows 10, and more.

Google Workspace
If your business runs on Google Workspace, our team of engineers are ready to help you plan for, deploy, and manage your Google Workspace environment to ensure your cloud environment and applications support user productivity.

Microsoft Azure
As a Microsoft Cloud Partner with a designation in Infrastructure for Azure, PEI can help you every step of the way in your Azure journey. This includes everything from planning for cloud migration to monitoring and managing your environment once it is up and running.
Managed Service Provider Pricing
When talking about managed IT services, cost is usually a selling point for the subscription-style IT service. But what do the savings look like?
We already covered the different managed services models (co-managed, fully outsourced, and advanced skill augmentation), and as you could probably guess, the more involved your provider, the higher the price. Your business structure will also impact the cost of an MSP. When you begin researching managed services, keep in mind the services you need, and the number of employees and PCs you need covered. That being said, let's compare the costs of building an IT team internally versus the cost of a Managed IT Services Provider.
The table below breaks down the annual cost of building an IT team for a company of 30 individuals. It includes the salary of an IT Support Engineer and the tools they will need to support a company's technology.
| | | | | |
| --- | --- | --- | --- | --- |
| Solution | Price | Quantity | Monthly Cost | Annual Cost |
| Anti Virus/Anti Malware | $ 2.50 | 30 | $ 75.00 | $ 900.00 |
| DNS Protection | $ 2.50 | 30 | $ 75.00 | $ 900.00 |
| Email Filtering | $ 5.00 | 30 | $ 150.00 | $ 1,800.00 |
| Security Training Solution | $ 2.00 | 30 | $ 60.00 | $ 720.00 |
| Documentation Solution | $ 19.00 | 1 | $ 19.00 | $ 228.00 |
| Monitoring Solution | $ 5.00 | 30 | $ 150.00 | $ 1,800.00 |
| Microsoft Office 365 Training Solution | $ 4.00 | 30 | $ 120.00 | $ 1,440.00 |
| Network Monitoring Solution | $ 15.00 | 1 | $ 15.00 | $ 180.00 |
| IT Support Engineer | $ 5,895.00 | 1 | $ 5,895.00 | $ 70,740.00 |
| Total Costs | | | $ 6,559.00 | $ 78,708.00 |
Now, let's look at what a fully outsourced plan would look like for this company using an average cost of $150/user/month.
| | | | | |
| --- | --- | --- | --- | --- |
| Solution | Price | Quantity | Monthly Cost | Annual Cost |
| Managed Services – $150/user/month | $ 150.00 | 30 | $ 4,500.00 | $ 54,000.00 |
Another way to consider the price of a managed services provider is to look at how many users you could add to a fully outsourced plan for the cost of one IT Support Engineer. If an IT Support Engineer costs $70,740 annually ($5,895.00 monthly), you could support 39 users at the rate of $150/user/month for the same price. Could one IT Support Engineer proactively support 39 users each month and help with more strategic IT initiatives? If not, it may be time to consider a managed IT services provider.
Managed Services Pricing Models
There are three primary pricing methods when it comes to managed services. In the example above, we used the per-user model, but you can also consider a per-hour or a monthly flat-rate model.
Per-User Model: With this model, you will be billed for each user on your plan. This will include support for each user's equipment both in the office and company-owned equipment they use at home.
Per-Hour Model: With this model, you will be billed for the time your MSP performs work for you. This can also be looked at as a time-and-materials type of pricing model.
Monthly Flat-Rate Model: With this model, you will be charged a recurring rate each month that includes all services covered in your agreement. If you need any services performed outside of those covered, there is always the option to pay extra.
What to Look for and Avoid in MSPs
Finding the right MSP can be difficult. You want someone who will meet your needs and budget, and who is also going to be invested in your success. Your business should be more than just a paycheck, after all. There are a few green flags to look for and red flags to avoid while searching for the best managed services provider for you!
What to Look For
Clearly Documented Reporting Systems and SLAs: An organized MSP has clear and established systems that prevent anything from falling through the cracks! You'll know what you're paying for and if the MSP is delivering on their promises. Look for services like a quarterly business review to be included with your plan so you know you'll be kept up-to-date with the information being collected about your services and environment.
Non-Predatory Termination Rules: Good MSPs won't trap you in an unhealthy relationship that's not working. Look for a 30- or 60-day notice clause with no other strings attached likes fees or damages.
Confidentiality Agreement: Make sure your information will be safe and sound with your MSP. A confidentiality agreement should always be part of your services agreement.
Scalable and Flexible Services: Make sure your provider can keep up with you if you grow and is flexible enough to let you downsize your plan if your business goes through a rough patch.
Offers Strategic Planning Services: An MSP invested in your success will help you make strategic IT decisions and plan for your future. They'll keep you informed about what's happening in your technology environment and won't hide important details from you or tell you to make decisions you don't understand.
What to Avoid
No Established SLAs or Reporting Systems: If your MSP doesn't have a system for tracking wait times or keeping you updated on key metrics like performance and usage over time, you'll be constantly wondering what you're paying for and if the MSP is delivering on their promises.
Expensive or Tricky Exit Clauses: You shouldn't have to be "trapped" in your plan to want to stay with your provider. Reputable MSPs will let you leave if you're unhappy and won't make you pay exorbitant exit or cancellation fees.
One-Size-Fits-All Services: Most MSPs offer standardized plans, but it's a red flag if they're unwilling to budge on small customizations or don't have options to meet your specialized needs.
Works with Limited Vendors: MSPs who only work with one vendor will steer you in the direction that makes the most sense for them without thoroughly considering your needs. They likely also lack experience with a wide breath of technologies and infrastructure types.
Security Isn't Top of Mind: Security shouldn't be something you have to remind your MSP about. It should be top-of-mind during every service you're provided. Your MSP should also politely push back if you ask for certain policies to be applied to your devices and systems that go against security best practices. It's a red flag if your MSP is more interested in the paycheck they'll receive for doing work in your environment over what's best for the security and longevity of your business.
Ask the Right Questions: Your Guide to Finding the Right MSP for You
Looking for a Managed Services Provider, but not sure where to start? Our Ask the Right Questions eGuide can help you standardize your MSP search. Learn what to look out for, which questions to ask, and how to prioritize wants and needs while keeping your budget in mind.
Download Now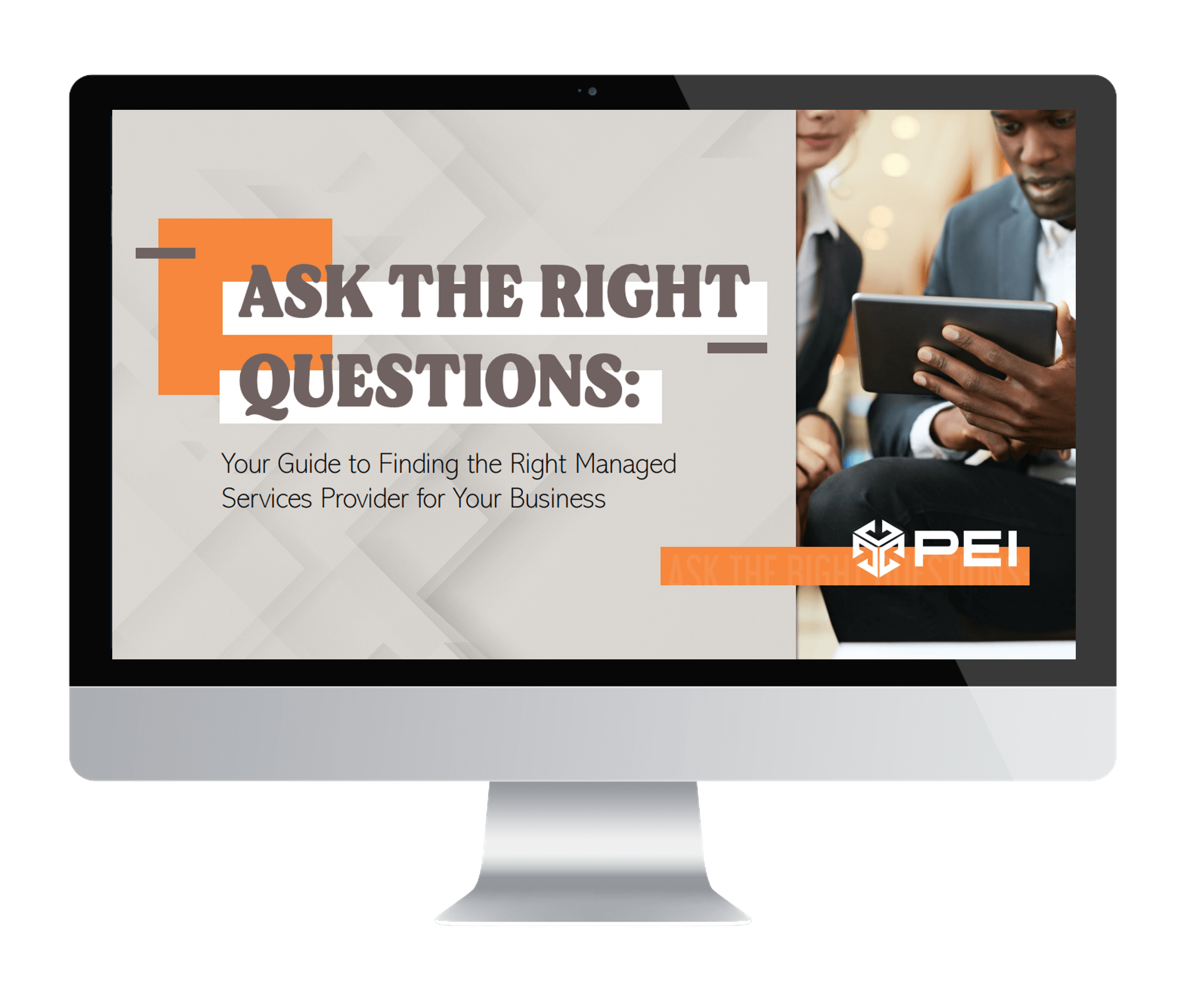 Current State of the Industry
At this point, we're all tired of hearing about the year 2020, but it is impossible to ignore the pandemic's impact on the state of IT and managed services today.
First and foremost, it introduced remote work as a viable option for employees. Many businesses discovered their infrastructure wasn't reliable enough to support such a dramatic and large-scale shift and leaned on MSPs to bridge the gaps. Users needed assistance learning new platforms like Zoom, Slack, and Teams, but internal IT departments were already overburdened. A study on the MSP market by Mordor Research revealed that 25% of companies used a managed IT services provider to manage over half of their IT needs in 2020. In 2021, that number rose to 38% as complex remote-work environments drove the need for reinforcements.
This shift led to another: As employees continued working from home or adopted long-term hybrid work schedules, cybersecurity rose to the top of many IT administrators' list of concerns. According to CompTIA's report on the State of Cybersecurity in 2022, an estimated $6.1 trillion was the global cost of cybercrime in 2021, and it is predicted to reach $10.5 trillion by 2025. Fast forward two years and businesses across the nation are facing threats to their technology, including the fear of Russian cyberattacks. Forbes reported that in 2021, "almost 60% of state-sponsored cyberattacks last year were attributed to Russia."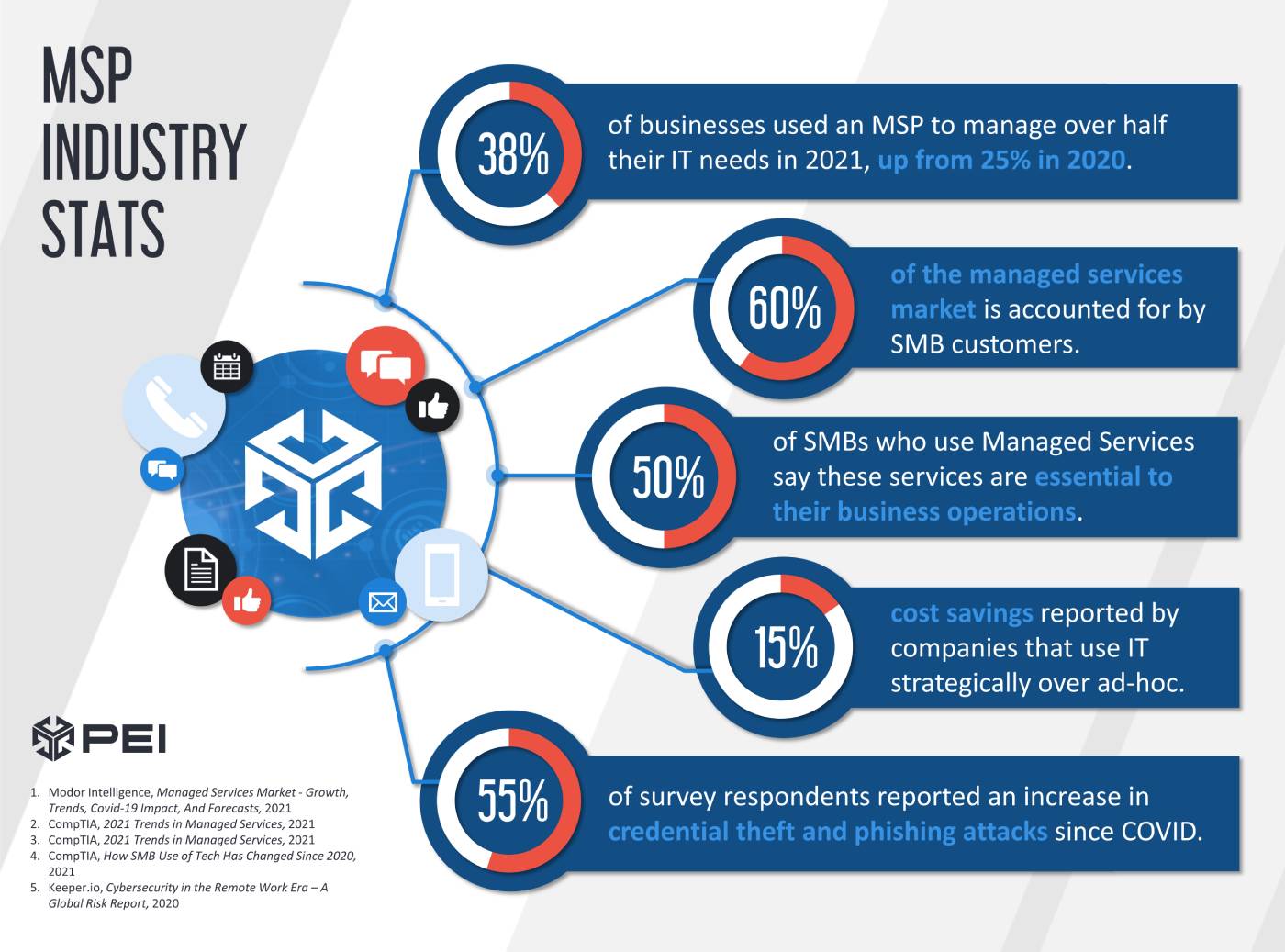 Given the various impending cybersecurity threats to businesses of all sizes and the increased vulnerability of a dispersed workforce, there is an increased need for managed services providers. An MSP can help implement security measures such as security monitoring, incident detection and response, multi-factor authentication (MFA), phishing tests, governance, and more.
In 2022, many companies acknowledged the need for IT improvements but also faced the impacts of the Great Resignation. In the midst of a worker shortage, MSPs like PEI were able to fill in the gaps for many businesses. They could also do this at a lower price than it would cost internally.
Moving into 2023, the midpoint salary for a Systems Administrator in Denver, CO is $107,348, and the cost for IT talent is only rising. While companies are in a salary bidding war for the best IT talent, the average cost of a Managed Services Provider is $110-$180 per user. Using an average cost of $145/user/month, a company of 61 employees could outsource to an MSP for the price of one Systems Admin. (And many are.)
With the constantly changing IT landscape, many businesses are relying on MSPs to obtain more experience, lower costs, and greater flexibility in 2022 and beyond.
Managed Services Plans
PEI offers a range of managed services plans to meet different needs and priorities. The three tiers for fully outsourced plans are the Silver, Gold, and Platinum plan. Below, we break down the key components of each plan:
Silver Plan / [End-User Management]
Great Starter Plan! If you're not satisfied, cancel after 3 months!
Silver Plan: This plan is designed for businesses whose primary concern is lightening user management loads and providing additional support for their users. It includes:
Helpdesk services to keep users productive and supported.
Productivity suite administration, so user accounts and connectivity don't get in the way.
Basic infrastructure and network management to keep systems and services online for users.
TALK TO AN EXPERT
Gold Plan / [Proactive Environment Management]
All features from the Silver Plan are included in the Gold Plan!
Gold Plan: It is designed for organizations who want to outsource IT management to be proactive and strategic. It also provides customers with an essential security foundation. It includes all the silver plan features plus,
More advanced infrastructure and network management.
Our essential security components like email and internet filtering, security awareness training, and management for your firewall.
Strategic IT planning services so you don't have to make important decisions on your own.
Increased user support with productivity training resources.
TALK TO AN EXPERT
Platinum Plan / [Comprehensive Security Protection]
All features in the Silver and Gold Plans are included in the Platinum Plan!
Platinum Plan: This plan is designed for companies who want to be completely proactive with IT management and offload management for most of their security risk. It includes all features from the silver and gold plans plus,

Comprehensive security features such as advanced policy management, mobile device management, and more.
A fully managed backup end-to-end ecosystem to protect against downtime.
TALK TO AN EXPERT
Not sure which plan is the best fit for your business? Contact us today, and we'll help you get started building a plan that works for your business!
Interested in PEl's Managed Service Provider? Get a Quote Today!
History of MSPs
The combination of the rise of subscription models and a lack of efficient IT support in the 90s created the perfect storm for the creation of managed IT services. In the early- to mid-1990s, technology became more accessible but also more complex to manage. Businesses used the internet and had migrated some of their work online, but they needed devices to support the new IT landscape.
The average business owner or employee did not know how to manage infrastructure or network devices like routers and firewalls, so they had to outsource help. This marked the start of the break/fix era in technology management.
In the late 90s and early 2000s, many businesses realized the break/fix model was not enough to keep up with their technology and they struggled to manage their environments. At this same time, subscription-style services like Netflix were on the rise. Consumers were attracted to the consistent cost, the ease, and the way it felt more personalized. During this time, the clouds of this perfect storm started to come together.
The early 2000s marked the rise of managed ITservices. Managed services providers were able to address the problems of business owners while also appealing to the consumer side of decision makers. Outsourcing IT for many businesses meant ensuring their technology worked throughout the day with minimal interruption, and it also meant paying a consistent, flat rate. Rather than reacting to each problem as it arose, MSPs were the proactive solution.
Since the early 2000s, the landscape has grown and adapted to changes in technology; however, it continues to be a proactive and cost-effective solution for small to mid-size businesses. In the 2020s, technology is more complex than ever, with MSPs delivering more customizable solutions to meet more specific needs.
Frequently Asked Questions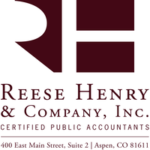 Sean Braisted
Reese Henry & Company, Inc.
PEI has been an incredible asset to our firm. They've been there for us in emergencies, and they've been instrumental in planning projects to grow our business. I would definitely recommend PEI to anyone looking for tech support assistance.
Kim Burns
Power Technologies
Look no further than PEI!!! We use PEI not only for the implementation of Teams Voice and MS365 but are on their monthly plan to be available for our entire companies' IT needs. This has proven invaluable to us for everything from seamlessly onboarding employees to after-hour emergencies. Thank you, PEI!
Case Studies
With the right tools to monitor, manage, and protect our clients' IT needs, the following customer stories highlight how PEI's Managed Services injected new energy into IT outcomes.
New Direction Case Study
New Direction Trust Company is a trusted provider of self-directed IRA and HAS accounts that combine the tax advantages of these accounts with alternative assets ideally suited to individual investment goals.
New Direction was running on on-premises, legacy software for their intranet, CRM, and service delivery functions. The lack of integration between these solutions drove significant complexity and frustration for employees with many data tasks needing to be performed manually. All of this negatively affected customer wait times and kept IT team members busy troubleshooting connections, bugs, and slow downs.
With a fully-outsourced managed service plan from PEI, New Direction was able to supercharge efficiency for their employees and customers. They.
offloaded the user helpdesk tasks that kept the IT team from being able to take more strategic action in their environment,

used the increased bandwidth and vCIO strategic planning sessions included in their plan to create a roadmap for improving the inefficient systems causing problems, and

worked with PEI to migrate their environment to an agile, cloud-based infrastructure that allows for systems integration, automation, and seamless pivoting between tasks.
With their modernized IT strategy, optimized environment, and proactive management from PEI, New Direction has seen an increase in client satisfaction and retention and experienced no interruptions to their business during and after a local natural disaster caused significant damage in their area.
Industry Terms and Glossary
Remote Monitoring and Management Tool or Agent (RMM):
RMM tools or agents are used by MSPs to remotely monitor and manage devices or networks their customers, allowing for remote software installation, patch application, real-time machine health reports, and other management actions.
Automated Incident Resolution:
RMM agents can be used on networks to provide automated interference when needed. RMM tools can bring networks back online before down reports reach your MSP.
Virtual CIO (vCIO):
vCIO is a type of professional service where an IT provider will serve as the CIO for customers to provide strategic IT direction. This can include serving on hiring committees, assisting with budgeting decisions, and working with other company executives to plan technology initiatives.
Service-Level Agreements (SLAs):
SLAs are a list of response and resolution times provided to customers by MSPs. They include multiple priority levels, wherein business-critical or service-interruption events will fall in the higher priority levels. Higher priority levels correspond with shorter wait times for an MSPs engineer to respond to a ticket you've opened with them.
Helpdesk:
Helpdesk is the name for the service provided by an MSP's engineers to end users at your company. This is a key feature of managed services plans because it provides IT support for all of your users from simple password reset requests to more advanced problems like VPN troubleshooting.
Outsourcing:
Managed Services are a type of outsourcing where you pay another provider to take on a key function in your business instead of handling it internally. An MSP might outsource some (or in some cases all) of their engineering talent by contracting with non-employees in other countries or locations to keep costs down or provide support for additional time zones.
End of Support:
Technologies that have reached end of support are no longer being supported by the original manufacturers. This means that no security patches, updates, warranty services, or manufacturer support are being provided for the technology.
Endpoint Detection and Response (EDR):
A step up from anti-virus, EDR uses automation and analysis capabilities to continuously monitor endpoints for suspicious files and enact response actions quickly. EDR is often offered by MSPs to protect user workstations or other endpoint devices.
Patching:
Important security updates provided by manufacturers are called patches. Any managed services plan should include prompt patch installation to keep you protected.
Email Security Best Practices
a 60-minute crash course webinar for more effective IT management.
Get access to the Free, On-Demand Webinar today!
Get Access
Learn How to Get Started with More Effective
IT Management
Are you not sure if your business could benefit from a more organized approach to IT Management? If you're looking to think more strategically about IT, keep your business protected from cyber-attacks, or better manage your newly remote workforce, developing an IT management plan can be instrumental to achieving those goals.
A great place to start? Tightening down your email security practices.
This complementary 60-minute email management training class is perfect for IT managers or business owners who want to learn:
How to create a step-by-step plan for implementing email security best practices.

Which policies you should configure in Exchange Online Protection for a comprehensive email security foundation.

How to decide if the security features included in your Office 365 licensing are enough to protect your business from email security threats.

What other elements of your IT strategy can increase your email security effectiveness.