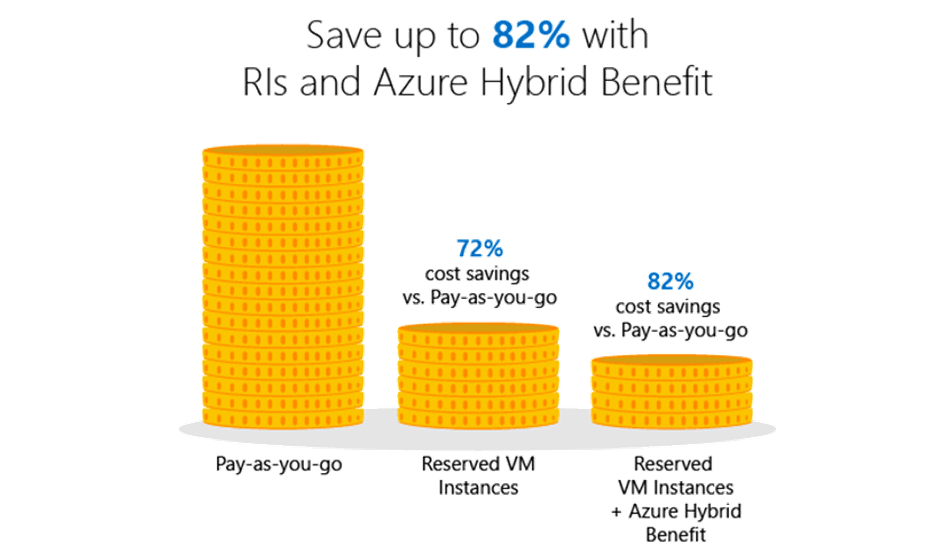 Azure is a Powerful Tool for Saving Money
If you've ever looked at Azure you've probably realized that "Azure" is just the tip of the iceberg. Microsoft Azure is a cloud computing service created by Microsoft for building, testing, deploying, and managing applications and services through a global network of Microsoft managed data centers.  Now within the Azure application, there are unique and scalable workloads considered pay-as-you-go, which allows organizations to remain flexible. This is a great way for organizations to reduce costs while remaining fluid in an ever-changing and competitive market. Believe it or not, Microsoft has now sweetened the deal.
How Azure Reserved VM Instances Can Save You Even More
In comes Azure Reserved VM Instances (RIs). Instead of the pay-as-you-go model, organizations can now significantly reduce costs by reserving virtual machines in advance. According to Microsoft, organizations can save up to 72 percent compared to the pay-as-you-go model, with one-year or three-year terms on Windows and Linux virtual machines (VMs). Organizations lower their total cost of ownership by combining RIs with pay-as-you-go prices to manage costs across predictable and variable workloads. When companies combine the cost savings gained from Azure RIs with the added value of the Azure Hybrid Benefit, they can even save up to 82 percent!
While RIs require making upfront financial commitments, they also provide flexibility should your business needs change. In short, simplicity meets flexibility. You can select and purchase RIs in three easy steps. Specify your Azure region, virtual machine type, and your term. If you're interested in exploring Azure in detail, or you currently have a tenant and would like to discuss Azure Reserved VM Instances, call the experts at PEI and we'll get you and your team ready to go! We're available at 303-974-6881.
Matt Dixon, PEI