Artificial Intelligence (AI) is a huge topic of conversation, not only in the tech world, but across all industries. While there's a lot of excitement about the possibilities, there's also a lot of trepidation and skepticism. Although the conversations around AI now seem to focus on new technologies, there's a lot of subtle ways you've most likely already been using AI technology with your Microsoft license.
Let's look at some of the AI technology you might not even notice!
Auto-Response in Teams
When you're chatting with someone in Teams, AI is utilized to provide some auto-response options. Typically, you'll only see these options to respond to simple questions or react to messages. This feature won't formulate long-form responses to complex questions, like the Compose feature in Bing Discover can provide.
While this feature might not seem as sophisticated, in the background, AI is attempting to understand the context of your conversation, determining when a shorter reply might be necessary, and formulating appropriate options for you to choose from.
Here's an example of when you might see this AI feature in action: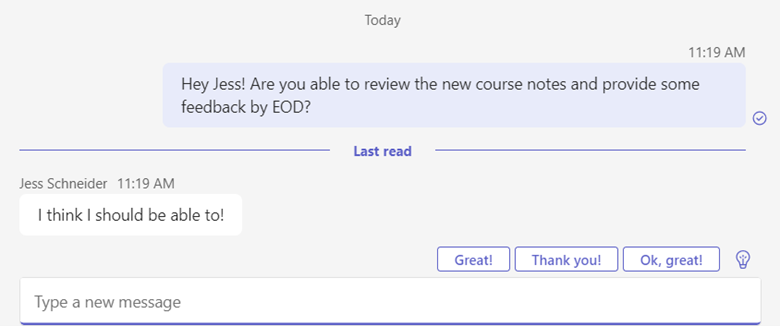 Predictive Text in Outlook & Word
Predictive text is a convenient feature you may have noticed while writing an email in Outlook or working on a file in Word. The feature uses AI to contextualize what you are typing and make predictions on what your next word might be. If the prediction is correct, you can simply hit the tab button to allow AI to finish your thought for you!
Here's what predictive text might look like when writing an email: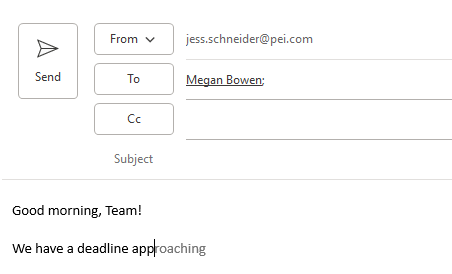 Viva Insights
Microsoft's Viva Insights uses AI in a lot of different ways, many of which relate to your Outlook calendar. Viva Insights provides "meeting insights" for upcoming events on your calendar, which you can find when you open the meeting invite from your Outlook calendar. This feature can provide you with important information about your upcoming meeting, including any cloud files or email threads that might be related to the upcoming event on your calendar.
Here are the meeting insights for an upcoming training meeting on my calendar:

You may also see this feature in action when you open your start bar on a day you have a meeting. Under the "recommended" section, not only will Microsoft recommend files or documents you've been working on recently, but it will search your cloud files for anything that might be relevant to any meeting you're having that day and suggest you open it. Understanding how this AI feature works might help you be more intentional about how you choose to name your files!
Here's an example of Microsoft finding a file that's related to a meeting:

The small calendar icon below the name of the document shows me what upcoming meeting this file might be related to.
And lastly, you might have noticed Viva Insights using AI to remind you to plan for any vacation or out-of-office time! A good way to communicate to your colleagues that you'll be unavailable is to make sure you are blocking out any out-of-office or vacation time on your calendar. You can do this by adding a new appointment and making sure that instead of showing you as "busy" during this time, you select to show as "out of office." Once you do this, Viva Insights recognizes that you'll be unavailable soon and prompts you to plan for your time away. This might include setting up automatic replies, extending your out of office calendar event, or cancelling/ rescheduling any meetings that might coincide with your time away.
Here's an example of Viva Insights using AI to help me plan for some time away from work: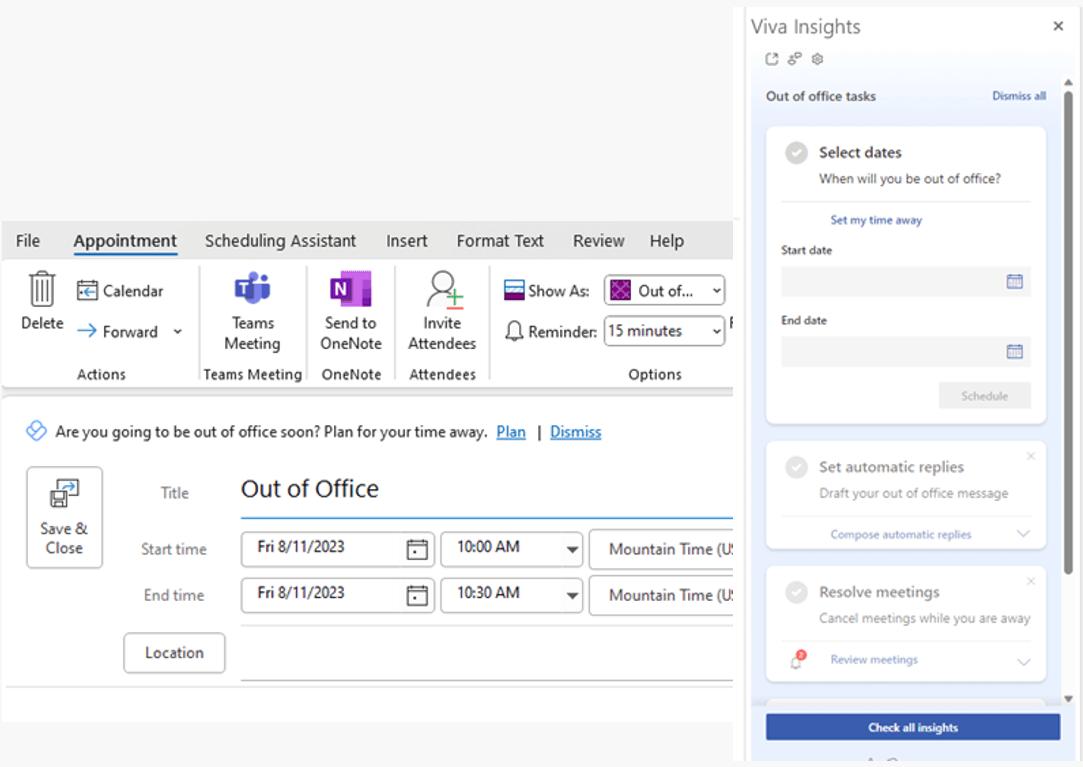 AI is Already Here
While conversations around AI seem to be at the forefront of just about every industry, the reality is that we've already been using a lot of this technology. You've likely used one of the examples I've mentioned here. We can and will continue to find ways to use new technologies, not to replace humans, but to allow them to focus less on repetitive tasks and more on the work they need to do!
If you are looking to learn more about AI and how it can be applied to your business, you're in luck! Our 12th Annual Sporting Clay Event is on September 19th and this year our panel of experts will discuss how AI and Automation can streamline business operations. Register for your spot today!
Jess Schneider, PEI