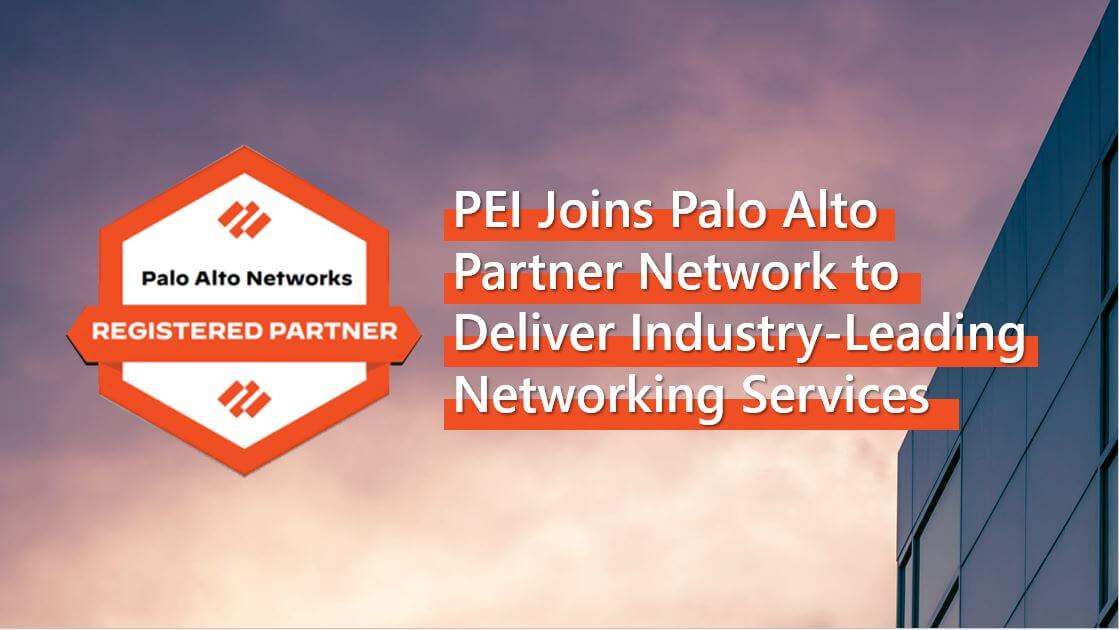 PEI's new partner status with Palo Alto will bring best

–

in

–

class networking services into small and mid-sized businesses.
February 7, 2022—Boulder, CO—PEI, a top-rated IT consultant announced today that it is a Palo Alto Networks registered partner. With this new partnership, PEI is fully certified to deliver Palo Alto network solutions to clients.  
PEI is already a well-recognized Cisco Select Partner as well as a Dell Networking Partner, and it now adds Palo Alto to its networking partner list. Palo Alto Networks is an industry-leading networking and network security vendor, and PEI will be able to sell Palo Alto solutions to help small to mid-size businesses build, manage, and secure their networks. 
For years, PEI has been committed to delivering top–of–the–line networking services to small and mid-sized businesses by maintaining advanced credentials and hiring only senior-level engineers. This remains true as the Managed Services Provider expands its solution catalog to include Palo Alto network solutions.  
PEI will still target small to medium businesses, but now with a wider range of offerings. "We are thrilled to announce our partner status with Palo Alto," says Tim Krueger, President and CEO of PEI. "PEI stands apart from most other partners because we serve businesses in the SMB space. This puts us in a unique position to target a gap in Palo Alto's market and provide our customers with the best network solutions and security offerings for their businesses." 
PEI's Networking Services focus on the whole network lifecycle. This includes planning and assessment, configuration and installation, and finally, support and management. The Managed Services Provider can build and implement new network infrastructures or update existing networks. Now as a Palo Alto Networks partner, PEI can improve its three-step networking service by offering best–in–class network solutions.  
For businesses looking to take full advantage of Palo Alto's network solutions and hardware, PEI offers Network Management Services. Its Network and Connectivity Management Plans allow PEI to offer Palo Alto's solutions to a wide range of businesses that may or may not be looking to fully or partially outsource their IT. 
"Our primary consideration when deciding on solutions and forming partnerships is always how it will benefit our clients," says PEI's Vice President, Jacob Eker, on stepping into Palo Alto's partner network. "We've evaluated many networking solutions and Palo Alto proves to measure up to our engineering standards and will provide the best value to our clients." 
In 2021, PEI's commitment to excellence was recognized when CloudTango listed the Managed Services Provider tenth on their list of Top 100 U.S. MSPs. PEI's commitment to providing the best value to their clients does not falter with their new partner status at Palo Alto.  
About PEI
Since 1988, PEI has grown into a top  IT Consultant. With more than 30 years' experience deploying advanced engineering solutions centered on collaboration, cloud computing, networking, cyber security, and Managed Services, we help local and national businesses use technology to solve their business problems and are committed to driving digital transformation for small and midsize businesses.