Outlook Tips and Tricks
Many of us spend a large portion of our days in Microsoft Outlook, creating or responding to emails, managing our calendars, and organizing our business or client contacts.
The following information covers a few optimization points that I use in my day-to-day life to get the most out of my use of Outlook!
How to Edit the Subject Line in Outlook
This has been the single biggest game changer for me! I receive countless scans of packing slips that all have missing subject lines, and it would be impossible to keep track of these without Outlook's edit feature. Editing the subject line of an email is quite simple:
Double click to open the email in a separate window
Click into the subject line and add whatever you want
Press CTRL+S to save your changes.
I use this to label the packing slips I receive and to leave notes to myself about other emails. It's a great practice to keep myself, and my work, organized and easy to access!
How to Use the Settings to Delay Sending Emails in Outlook
No matter how many times you proofread your emails, there is always that one typo that appears after you hit send. I have my emails set to send on a 1-minute delay to give myself time to fix these last-minute discoveries. To set this up:
First, in the Outlook application go to File > Manage Rules & Alerts.
Note: This will not work in the Outlook web browser and it must be in the downloaded application!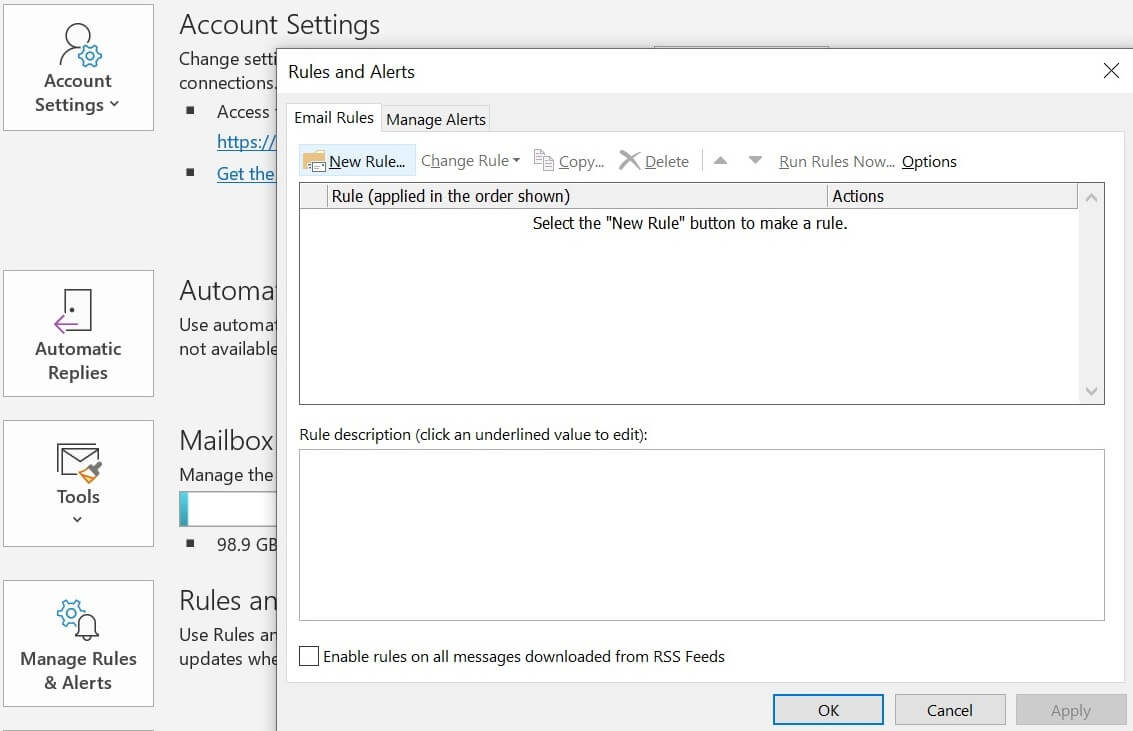 Second, click New Rule at the top and then click Start from a Blank Rule > Apply Rule on Messages I Send.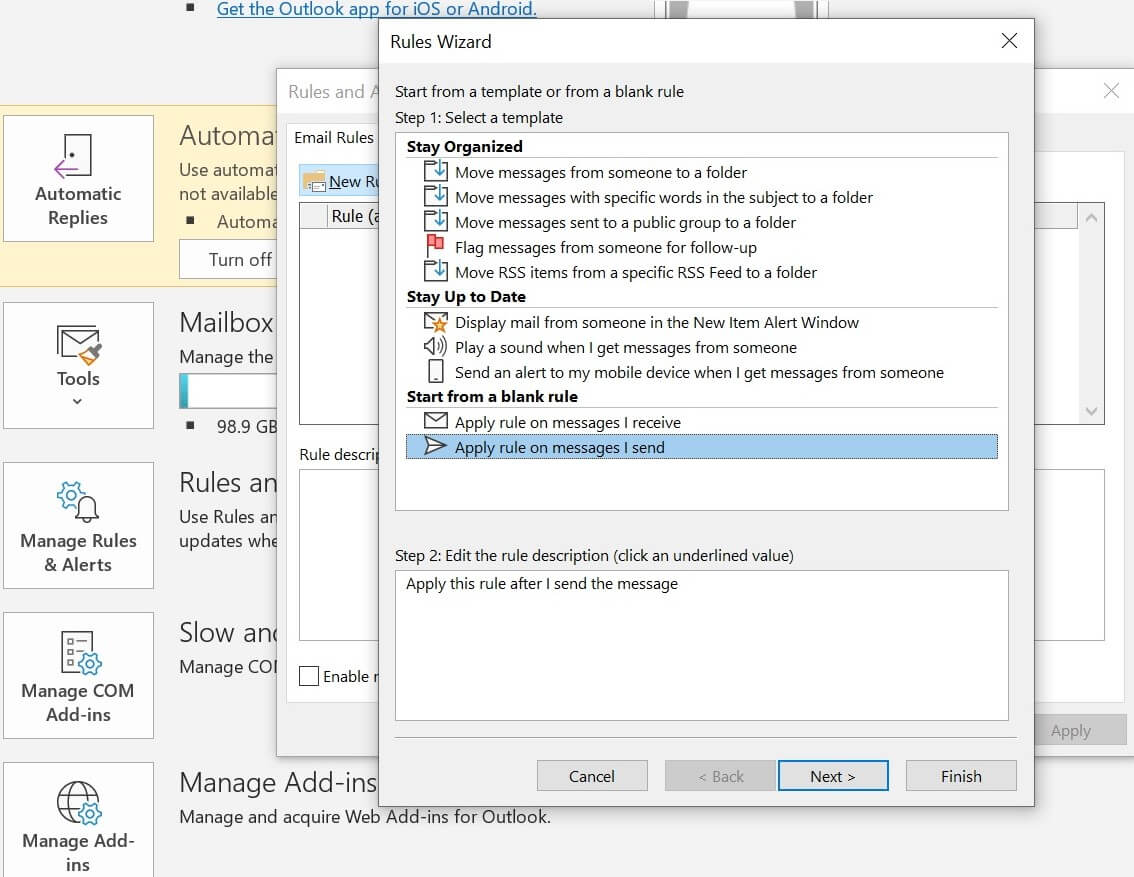 Then select Next to refine which sent emails you want this rule to apply to. If you want the rule to apply to all emails, do not mark any of the checkboxes.
Upon hitting next, you will see a popup that says This Rule Will be Applied to Every Message You Send. Is This Correct? Click Yes if it is the setting you chose, if not revert to the previous step.
In the next window, in the step 1 box, choose Defer Delivery by a Number of Minutes.
Then, click on a number of minutes in the bottom window and choose the number of minutes by which you want to delay delivery.
Note: 1 minute is the lowest you can go.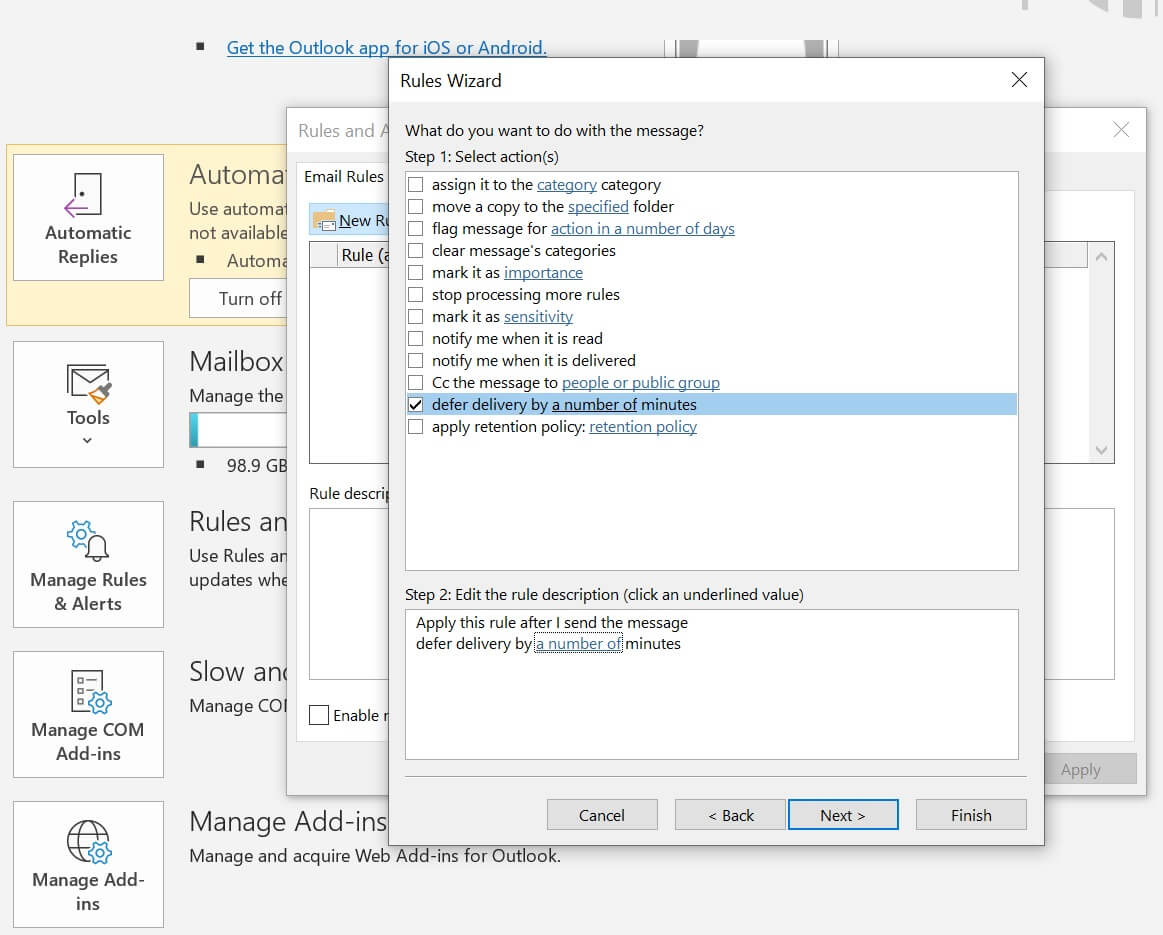 Finally, click Finish and you're all set!
How to Use Outlook Hotkeys
There are dozens of Outlook keyboard shortcuts, so rather than list them, I've linked the Microsoft article which has in-depth explanations for each! Included are hotkeys for Windows, Mac, iOS, and Outlook Web.
Note: The provided link is for US keyboard layouts only. Keys for other layouts may not match exactly to what is listed here.
If you want more resources to optimize your use of the Microsoft Office Suite, follow this link for more tips!
Need To Learn More About Office 365 Applications?
Outlook is one of many tools from Microsoft that you can use to enhance and optimize your virtual work experience. Mastering Outlook is a start, but there are plenty of more applications to get your hands on and learn to become a Microsoft master!
We offer Microsoft Office 365 training online through our training portal called QuickHelp. In this program, you'll find short videos, downloadable guides, and competitive elements to keep you one step ahead. These structured, self-paced courses will keep you engaged and will take you and your colleagues from beginners to advanced users with just a few minutes each day.
If your business needs to learn more about Office 365 applications, check out QuickHelp.
Brandi-Ann | PEI