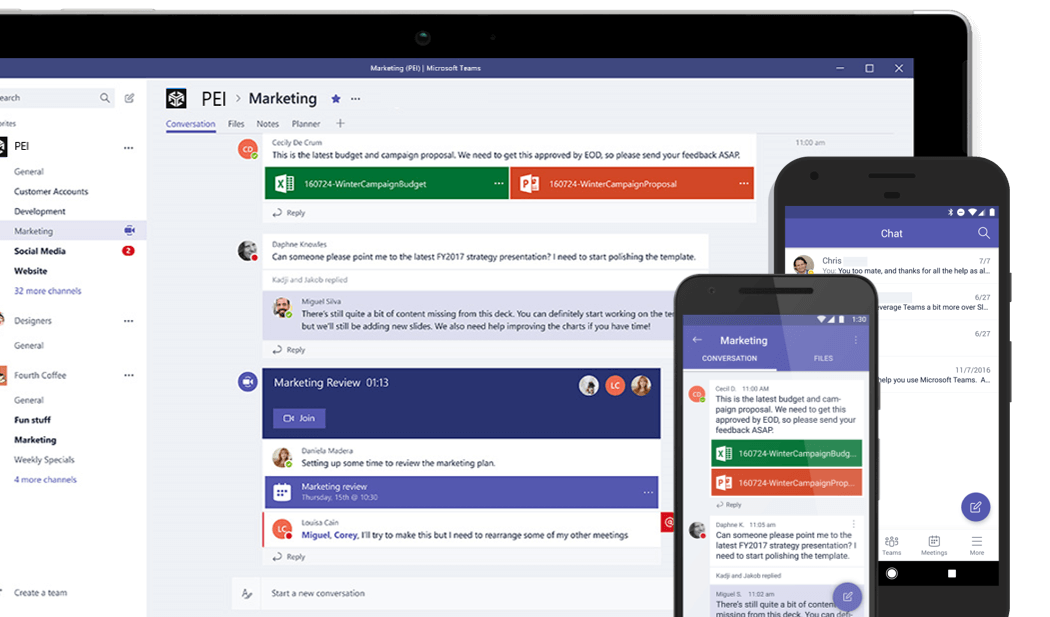 If you're using Microsoft products, you've most likely heard of Microsoft Teams.  Teams is Microsoft's most recent upgrade for Office 365 and will be a massive game changer for anyone interested in taking their Communications and Collaboration practices to the next level.
Microsoft Teams provides four core solutions to create a digital workspace for collaboration.
Teams provides a modern conversation solution that can be visible to the entire team and also allows for private discussions. Teams is also tightly integrated with Skype for Business, so voice and video can also be integrated into the conversation.
Teams brings the full capabilities of Office 365. Word, Excel, PowerPoint, SharePoint, OneNote, Power BI, and Delve are built-in.
Teams can be highly customized to fit the unique aspects of your team and how you work.
Teams provides advanced security and compliance capabilities that Office 365 users expect. Data is encrypted both in transit and at rest.  Teams is provisioned out of Microsoft's world-class hyper-scale global network data centers and is automatically provisioned within Office 365.
Click here if you would like to learn more or see an interactive Demo. Additionally, if you're interested in how the capabilities of Microsoft Teams can improve the communications strategy of your organization, you can reach out to us directly at info@pei.com or 303-974-6881,
Tim Krueger, PEI