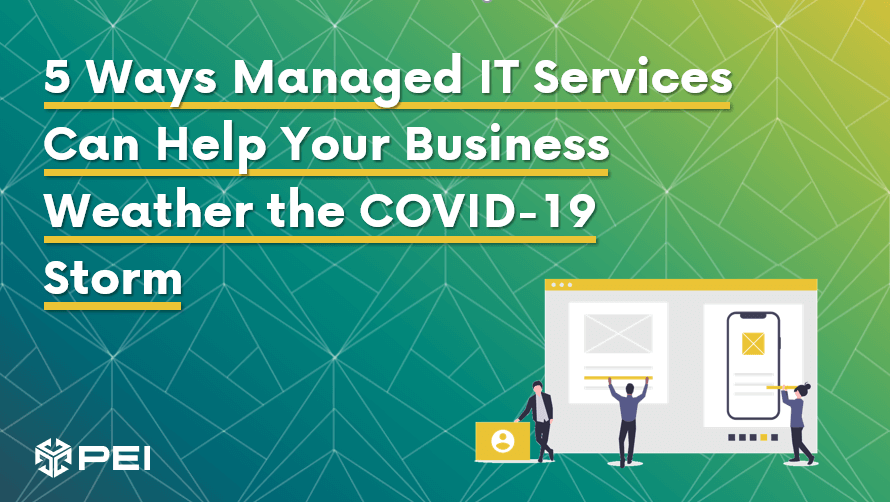 The pandemic has affected every small business in myriad ways. Some businesses have been able to not only overcome the adversary but also thrive in this new world. Clients who leverage our managed services have been able to quickly adapt to the unique challenges posed to their business by the rapidly changing market. For many businesses who feel they're facing this alone, I will highlight some of the ways PEI's Managed Services clients have been able better face the COVID-19 world.
Financial Agility
Rapid Technology Changes
Security
Software Asset Management
vCIO Guidance
Financial Agility and IT Management
The realities of the changing market required some businesses to make drastic changes to their teams. We've seen many in manufacturing and hospitality that were hit hard and quickly when the pandemic hit, and forced to rapidly reduce employee counts.
Our managed services clients who needed to furlough or layoff the employees saw a corresponding scaling down of their IT support costs through our user-based, monthly pricing. Small businesses with in-house IT staff had to make similar cuts to reduce costs, but lost valuable IT resources essential in keeping the business infrastructure running.
I'll outline the financials of the different models below.
In most small businesses, assuming you don't outsource any of your IT management, for every 50 employees the company has, it requires one dedicated IT resource. (50 users = 1 IT Admin, 100 users = 2 IT Admins). This provides a fixed amount of IT resources and often means those resources are either overburdened with user queries or needing help long before the business brings on additional resources. Below is a chart that highlights the needs and costs of a small business for managing their IT internally versus leveraging managed services.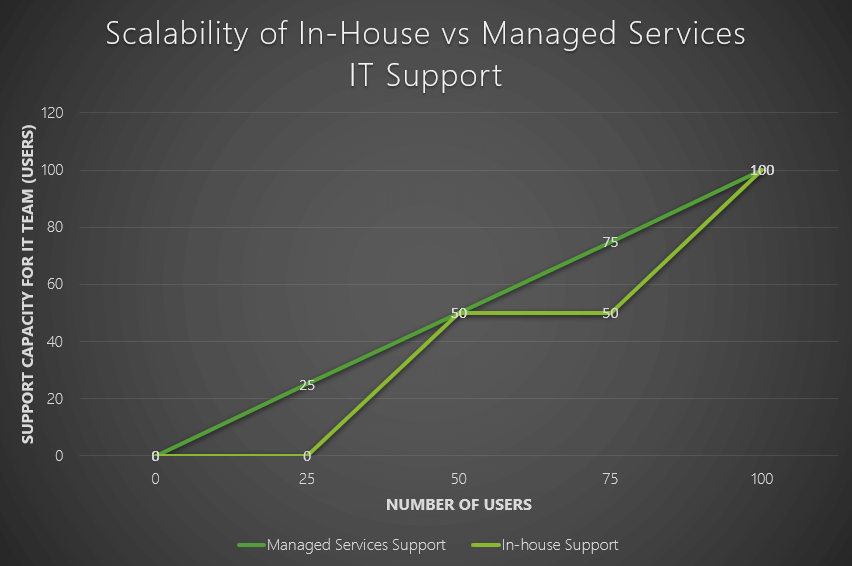 During the pandemic, we've seen companies with fewer than 50 employees layoff their sole dedicated IT administrator, leaving the company struggling to keep pace with their IT needs.
On the other hand, our managed services clients have been able to reduce their IT costs as their employee count reduces without forgoing any of their IT management and support services. They've been able to rapidly scale back out as their business has needed, making their business more agile.
Rapid Technology Changes
However you look at it, nothing in history has ever driven digital transformation faster than COVID-19. Previous ways of conducting business could not satisfy state requirements for safety in many instances, so every small business leader was left trying to answer the question, "How can I adjust my business to continue operating and generating revenue while keeping employees and customers safe?"
Across many verticals, the rapid adoption of technology was essential for keeping employees productive and working remotely when traditionally these businesses were set up for in-office work. According to Statista, the number of daily active users of Microsoft Teams jumped from 32 million on March 12th to 75 million on April 30th.
Making a rapid business shift in a matter of days/weeks is daunting and doing so without an experienced technology partner can cripple any company. PEI's Managed Services clients had a trusted advisor outlining the steps needed to make the transition to a partial or fully remote working environment and helping them each step of the way. We've even had clients take this opportunity to eliminate their physical office altogether and commit to being an entirely remote-based company moving forward.
PEI's managed services allow these companies to make this transition quickly and continue receiving enterprise-grade support for users and systems even while users are working from home.
Security
As if small business owners didn't have enough difficulties during the pandemic, cyber security threats have continued to rise and evolve since the onset of COVID-19. Business leaders have used all their resources and mental capacity on adapting their business, and in many cases have not kept up with the threats that continue to grow. We've seen clients reduce or weaken their security protocols to allow for quick business changes like rapid work from home, and have paid the price with breaches.
For PEI's Managed Services clients, we've provided continued resilience against the latest threats with a consistent and uninterrupted schedule for updating clients' systems and adding additional layers of protection against new threats. We've also worked with our clients to allow them the flexibility of working on personal devices without sacrificing security, and I'll give an example.
One of my managed services clients wants to ensure that only corporate-managed devices can access critical systems that host client financial data. But, they want to allow their users to access email on their personal devices.
To accomplish this without compromising security, we've helped this client implement a policy with Microsoft Azure Active Directory capabilities and Conditional Access. These policies allow access on a personal device only to Exchange Online for email (while also prompting for multi-factor authentication to ensure the user is who they say they are).
Below is a copy of the policy we put in place for the client.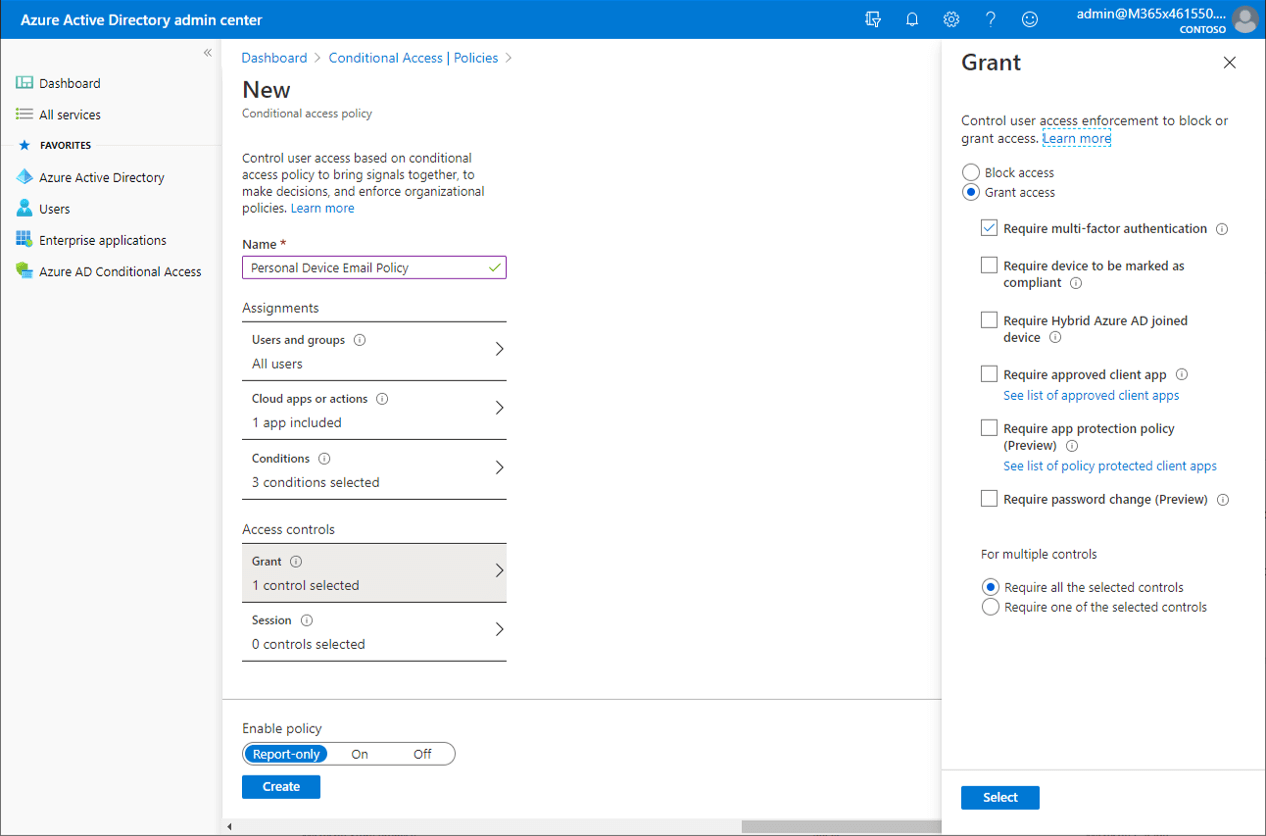 In addition to configuring an environment to allow for a change to remote work, PEI's Managed Services also has the ability to provide endpoint protection to personal devices, which keeps our clients' users protected at the device level, even when not on corporate-managed devices.
Software Asset Management (Operational Cost Savings)
Back in March, the world was a giant ball of uncertainty, and with uncertainty came the question in every small business owner's mind:
"How can I reduce costs to weather this storm?"
With the way the technology world has gone even before this pandemic, most solutions are available through subscription services. For PEI's Managed Services clients, we proactively worked with them to review their software entitlements and evaluate ways to adjust their licensing to lower their overall monthly costs.
For one client, we were able to adjust their Microsoft 365 licensing and save them $1,176/month without eliminating any functionality.
PEI's expert knowledge of the Microsoft licensing packages meant we could analyze their entitlements, build out a new strategy, and reduce their monthly licensing costs for no additional charge. This is a complementary solution that we provide to all our Managed Services clients.
vCIO Guidance
Navigating the waters of the pandemic as a business owner is difficult, and doing it without peers that can help along the way can make it overwhelming. As part of PEI's fully outsourced Managed Services plans, we provide clients with virtual CIO (vCIO) services. This is a C-level business planning service that provides short- and long-term vision casting for our clients. Within the past 6 months, the visions for our clients have adjusted quickly and drastically, and PEI's vCIO services have allowed the business to consider strategic alternatives that had not occurred without external guidance.
Partner with PEI to Get it Done
We treat our clients like true partners and are invested in helping their businesses succeed. Taking a more strategic approach to IT that allows you to adapt to current market forces and prepare for the next unexpected event can mean your business stays afloat when others sink.
Want to learn more about the real business advantages of having a Managed IT Services Partner, read 9 Things Your MSP Should be Doing for Your Business or send us a note at info@pei.com
Martin Feehan, PEI