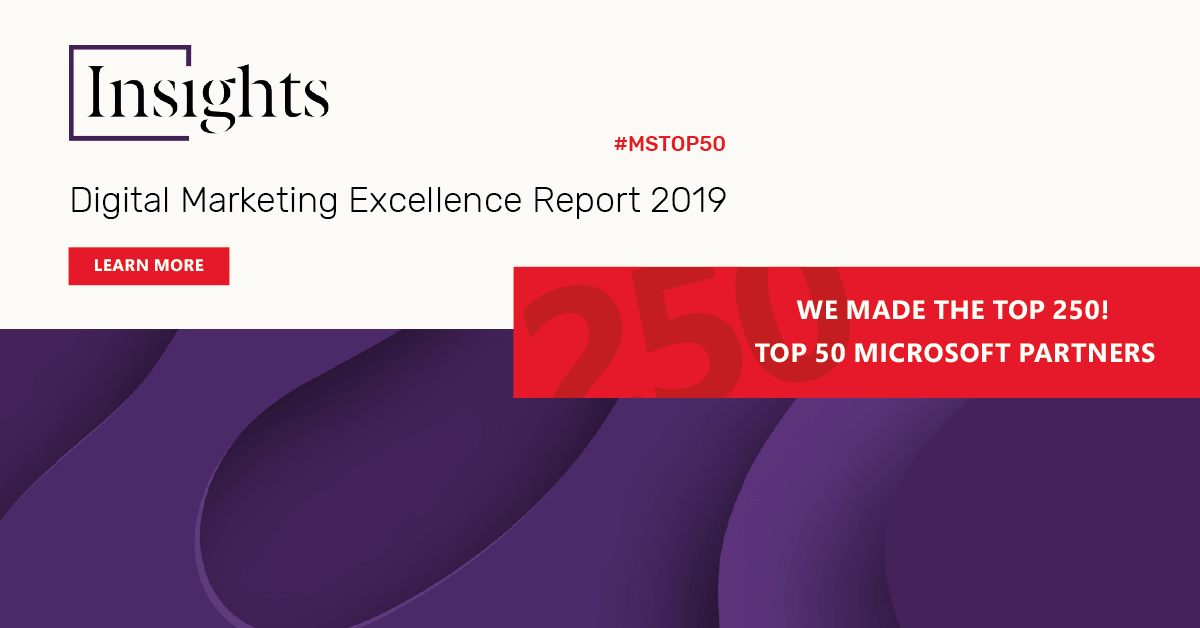 We are delighted to announce that PEI is featured in Fifty Five and Five's 2019 Digital Marketing Excellence Report which will be released on July 14th at Microsoft Inspire in Las Vegas, Nevada. The annual independent report analyses the websites, blogs, and social media efforts of thousands of Microsoft Partner companies and has become a definitive look at the state of digital marketing across the partner ecosystem.
Planning and executing an award-winning digital marketing strategy is something we are extremely proud of and something that has taken a lot of hard work and effort here at PEI. A great website, blog, and social media presence are all essential to digital marketing and equally play a key part in how customers learn about and experience our brand.
To be included in this report that celebrates marketing excellence across the Microsoft Partner Network is a gratifying moment for us and will spur us on to even bigger marketing ambitions in the future. The report, now in its fifth year, can be picked up from the Fifty Five and Five stand at Inspire (#616) or you can download a digital copy from here anytime after July 14th.
Planning for Consistency
Great marketing relies on consistency to achieve its goals. We have worked hard to keep up a level of consistency across all our channels in a way that not only gets our brand message out effectively but engages our audience as well. Our most important channels include:
Our website: A great website is key to all digital marketing. Our goal has always been to get this right and set the foundations for our whole brand.
Blog content: made up of engaging, up to date content that informs our audience and provides them with value.
The report is released on July 14th
"This report is a great resource for partners looking for examples, case studies, and best practices from their peers. By comparing websites, blogs, and social media practices, partners can see how their marketing efforts compare to benchmarks set by the best in the Microsoft Partner Network" – Gavriella Schuster, Corporate Vice President, One Commercial Partner, Microsoft
The report is free, and we are looking forward to grabbing our copy when it's released at Microsoft Inspire in Las Vegas. You can register now for your digital copy at Fifty Five and Five's website. This year's report includes profiles of the best performing partners, as well as interviews, insights and case studies from industry experts, including:
Foreword and interview from Gavriella Schuster, Corporate Vice President of One Commercial Partner at Microsoft
Insights and key findings from the thousands of partners analyzed by Fifty Five and Five
We are thrilled at the recognition of our marketing efforts and pleased to be counted among such well-known brands. We look forward to continuing to provide our customers with the best service—and this starts with getting our message to them in the best way possible, engaging them with relevant content, and providing them real value.
If you would like to know how PEI can help your business achieve its goals now and into the future, get in touch with us today.