When a customer purchases Cisco products, they wish to spend the least amount to ensure that the product will work for its intended life. They may decline the option of purchasing SMARTnet and just go with the coverage that the standard hardware warranty provides. It's important for customers to know exactly what they are missing when they do not purchase SMARTnet and just settle for the warranty. Cisco SMARTnet extends far beyond simple hardware replacement for when a product brakes.
There are many features that are included under a SMARTnet Service contract that are not covered under a warranty:
"Rapid replacement of hardware in NBD, 4-hour, or 2-hour dispatch options"
"Continuous technical support through the Cisco TAC"
"Latest OS updates, including both minor and major releases within the licensed feature set"
"Registered access to online self-help resources and tools"
"Proactive troubleshooting and alerts for Call Home – capable devices"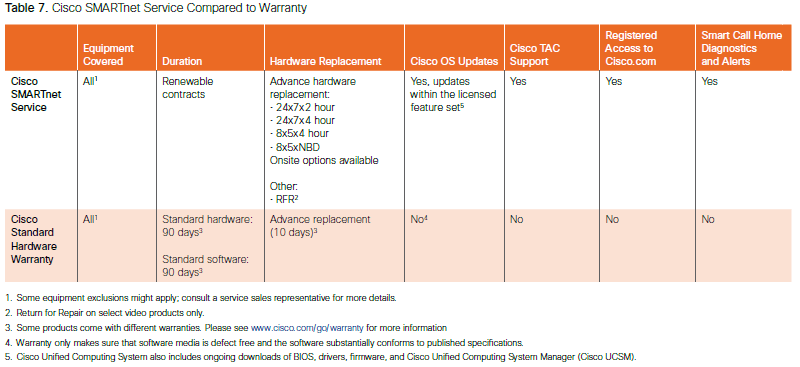 Cisco SMARTnet is designed to be flexible to the needs of each individual business. A business can determine how quickly each product needs to be back up and running, and decide which level of service should be purchased accordingly. On top of that, SMARTnet is designed to improve the current products that aren't broken, by providing the OS updates. In today's world where time is money, a company cannot afford to be running at anything but optimum efficiency, and SMARTnet is one great way to ensure that your business can stay at top speed all of the time.
https://www.cisco.com/en/US/services/ps2827/ps2978/services_qa0900aecd8042b4d6.pdf
Martin Feehan, PEI