Microsoft Azure: Solutions for Education
Azure is a technology platform that allows you to develop computing and data storage tasks in the cloud across a network of secure, Microsoft-managed datacenters. With Microsoft Azure, you can complete cloud computing tasks at any scale and on-demand using a pay-as-you-go plan. Azure is ideal for educational institutions because it gives them the computing power of enterprise-level businesses without putting strain on their limited budgets.
Fill out our form for a free consultation and Azure planning session!
Why Microsoft Azure is a Good Fit for Education

As the technological needs of schools and universities continue to grow more complex, you can use Microsoft Azure to beat funding challenges, stay competitive in the global education climate, support an increasingly mobile student body, and more!

Flexibility
Azure is a completely open cloud platform and completely compatible with Linux products, like CentOS, Oracle, Ubuntu, and more! Plus, Azure lets your researchers run opensource tools and kits too, like OpenJDK, Python,NodeJS and more. With Azure, you won't be forced to choose between housing your data or operations internally or migrating to the cloud. You can take advantage of Azure's hybrid capabilities to maximize your cloud computing investment where it makes sense for your institution.

Pricing and Scalability
Azure helps educators reduce overhead costs associated with data storage, server maintenance, and networking—saving money on operations budgets that can be tight in the public sector. Azure's pay-as-you-go pricing means you only pay for what you use: you can change your Azure solution in minutes to reflect seasonal usage instead of paying year round based on your peak demand.

Protection and Security
Azure's compliance coverage is more comprehensive than any other cloud provider, meeting a range of international and industry-specific standards, like FERPA. Security and Privacy are built into the Microsoft Azure Platform through Azure Security Center, giving you complete visibility and control over security threats. Plus, Azure uses industry-standard protocols to encrypt data in transit and at rest.
Looking to Move to Azure or Need Azure Support? PEI Can Help!
As a Microsoft Gold Cloud Platform Partner
PEI has achieved the highest certification for delivering Microsoft Azure Support and Azure Cloud Computing services. With our highly experienced team of Azure experts, PEI is perfectly positioned to help you with cloud-computing services:
Azure Assessment and Planning
We can help you determine which Microsoft Azure features align with your institution's needs and how compatible your current IT landscape is with cloud computing.
Hybrid Cloud Migration and Management
PEI's team of Azure experts can create and manage your hybrid environment to ensure that your migration to the cloud and cloud computing is successful and seamless.
Cloud Identity
We can integrate your on-premises Active Directory with the Azure Active Directory to secure access to the applications you use and increase the effectiveness of managing users and groups.
Cloud Integration Services
Let us configure all of your applications to share data in the cloud to help maintain your data integrity and increase efficiency and mobility for your institution.
Azure Support, Monitoring, & Managed Services
PEI provides full production support and management for your Azure environment with access to local 24/7 help desk services for any issues that arise.
PEI's Microsoft Azure Services for Education
Azure RDS allows you to run applications and desktops in the cloud, which helps you reduce costs by consolidating your infrastructure and enhances your security by ensuring your data is not stored on vulnerable hardware. With remote desktop services, you can give students and faculty access to their windows apps and data from any device on campus, so they can be productive no matter where they are–the library or the lab.
Get the computing power of an enterprise while meeting your tight budget. Azure VMs are ideal for educators, allowing them to grow without expanding their physical presence (or costs). They are billed by the minute, so you only pay for what you use, and you can configure your solution to account for seasonal usage, so you don't pay year round based on peak demand when your usage declines in summer months.  Virtual Machines can be Windows or Linux, and in the cloud or part of a hybrid solution.
Educators collect data at staggering rates: student information, research data, etc.  Azure Backup offers unlimited scalability, protecting limitless data for up to 99 years with 99.95% monthly availability. With Microsoft Azure, your data is covered and compliant no matter where you store it: your data center or in the cloud. You need continuous access to your data, and with incremental backups, shorter recovery times, and data encryption both in transmission and at rest, you can rely on your data being up-to-date, accessible, and secure.
When your systems go offline, students can't swipe cards for meals, staff members can't find files, and both can't access online portals. When downtime occurs, you need a plan to get your systems running again. Azure Site Recovery allows you to automate your protection and recovery processes to quickly orchestrate recovery. You can protect all your major workloads, not just your critical ones, while eliminating the added costs associated with managing multiple datacenters. Azure also offers continuous health monitoring.
Want to Learn About Azure Backup and Site Recovery?
Download our FREE eGUIDE to learn how Azure Backup and Disaster Recovery can protect you from downtime and disasters!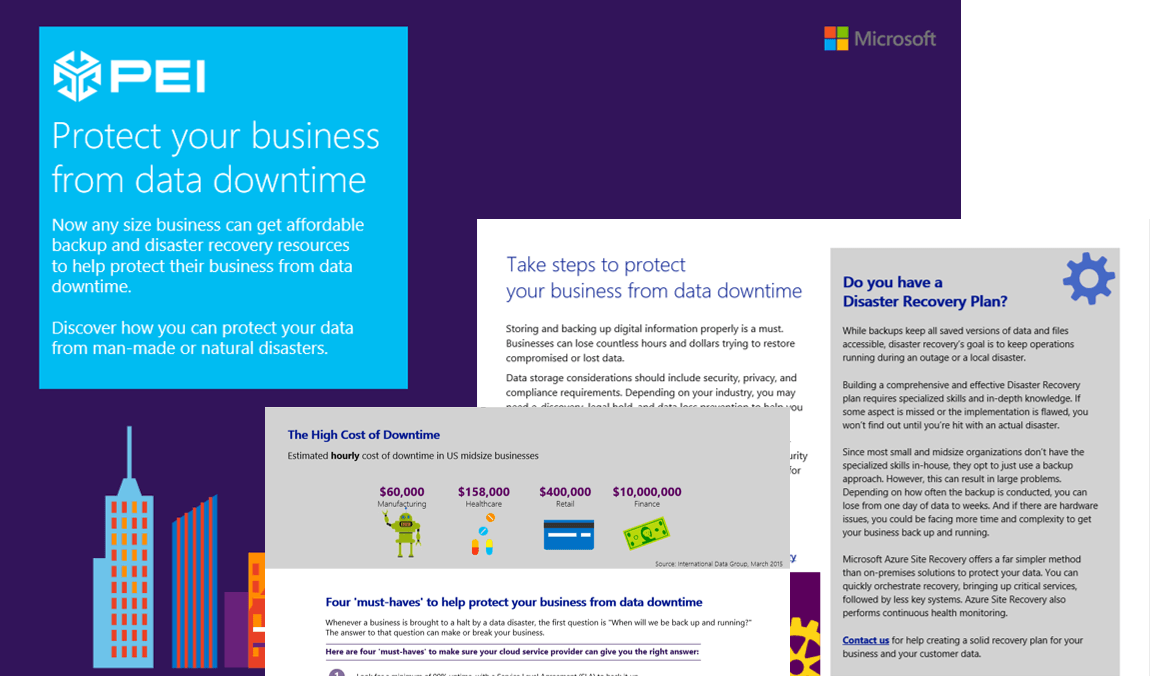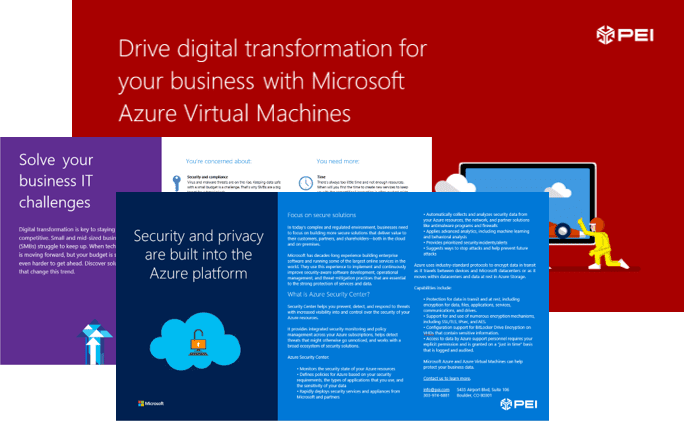 Want to learn how to save money on infrastructure costs and streamline operations with Azure?
We have an eGuide for that, too!
Microsoft Azure Managed Services
PEI's Managed Services provides full Azure support and management for your environment. Use our Azure support and never have to deal with an Azure problem on your own. With helpdesk support available 24/7, a PEI engineer will always be available to ensure your system is running correctly.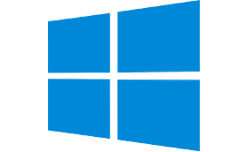 Azure & Virtualization
AzureAD implementation and troubleshooting
Office 365 Directory Sync and Hybrid Environment Support
Remote Desktop Services
Virtual Machines and Active Directory
Site Recovery
Cloud Storage and Data Backup